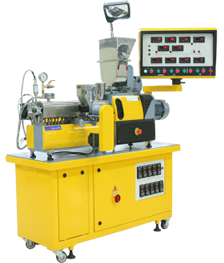 12 and 16mm Twin Screw Extruders
Availalble with gravimetric feeders which are modified to meet the requirement of feed rates adapted to the output of these small twin screw extruders.
Our 16mm twin Screw is available with forced air cooling for all barrel zones as well as side feeders.
Available in manual or fully computerized touch screen controllers with possibility to download and process all data on a PC.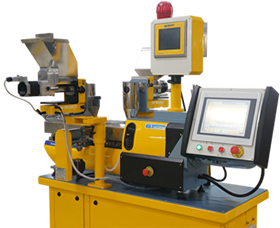 Twin Screw Extruders with 20 and 26mm
with Modular Barrels for Optimum Flexibility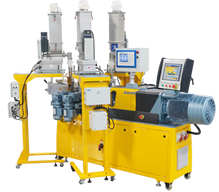 26mm. Twin with 38 L/D and 3 gravimetric feeders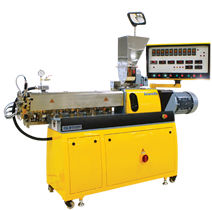 NEW 26MM COMBI TWIN with co-as well as counter rotating screws with a gear selector for easy change over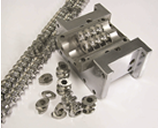 Modular co-rotataing twin screw extruders available with clamshell barrel inserts. With screw diameters of 12, 16, 20 and 26 mm and small batch productions. Single elements mounted on hexagonal shafts of screws for optimum flexibility of screw configurations.
Available with both single and twin-screw hopper feeders, vacuum pump with multiple vent outlets on barrel, twin-screw side feeder, liquid feeders, quick screen changer and a multitude of screw element types and combinations.