Blown Film Line w/Platform for Lay-Flat Width up to 550 MM
SINGLE LAYER FILM BLOWING LINES
from Compact to Medium Blown Film Lines
Blown Film Line with Platform for Lay-Flat Width of up to 550 MM
Single and Multi-layer Film Blowing Lines for lay-flat film widths of up to 550 mm has many features such as a twin channel air cooling ring, variable speed haul-off and nip-rolls, etc.
The film-blowing attachment is connected to our single-screw extruder with a C-clamp on the flange to the extruder unit. The attachment is built up on an individual self-supporting frame with lockable casters and thus can be easily removed from the extruder.
The die is mounted on the two tower pillars that are adjustable in height
to align with the extruder flange.
The film-blowing attachment is equipped with a film bubble stabilizing cage and synchronously adjustable film collapsing frames with polished teak wood or carbon roller gate rods.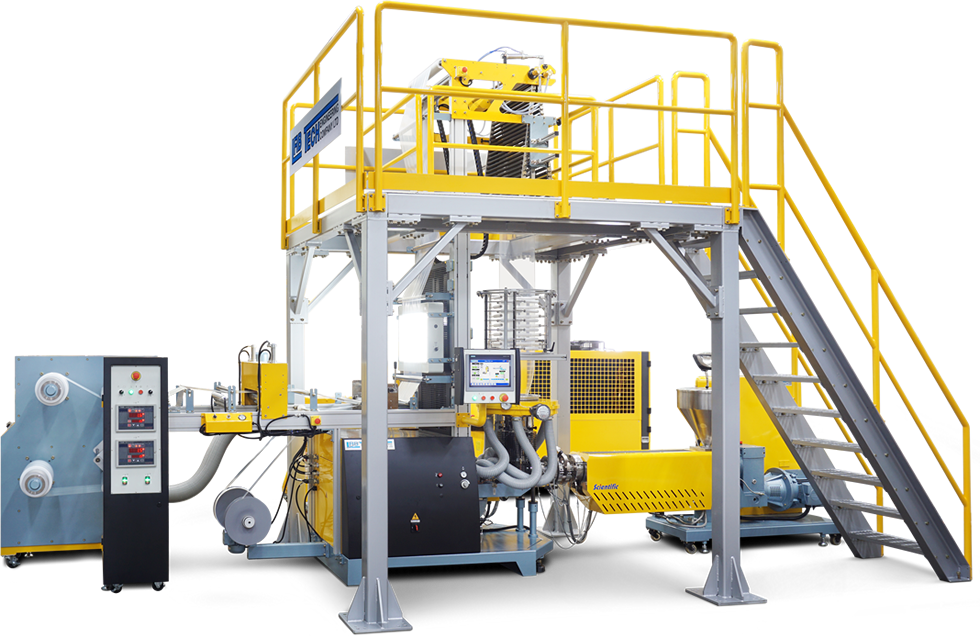 Film Blowing Line with a 45 MM Single Screw Extruder
Producing a Maximum Lay Flat Film Width of 550 MM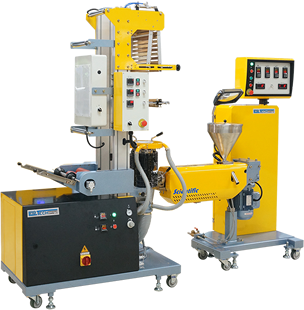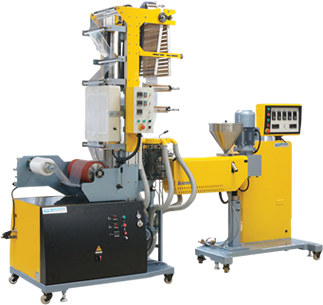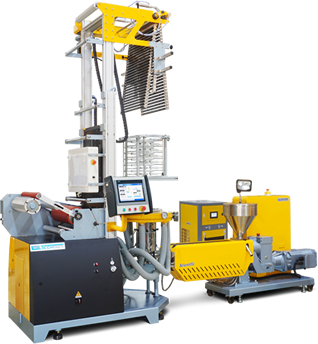 Compact Film Blowing Line
DOWNWARD SINGLE LAYER BLOWN FILM LINE
with Film Bubble Water-Quenching
Also Available for Multilayer COEX Blown Films
The LWQF-400 is a water quenching film blowing attachment for downward extrusion of the film bubble. The melt coming out of the single die is blown up in same way as with conventional blown film system but it is here directed downward and is firstly lead through an air ring, after which it is blown up to required size and led through a water quenching ring where the film is in immediate contact to a water curtain which will cool down the film instantaneously. After passing the water quenching unit, the film bubble is collapsed in an A-frame before entering the lower set of nip-rolls. The water on the flattened film is removed with squeegees and finally passed through a heating tunnel for efficient removal of
all water.
Film drying box is equipped with hot air chamber for efficient removal of all water on the film.
The outfeed section of the water quenching film line is equipped with Nip-Rolls which are driven individually by an AC motor. The speed is regulated on the control panel. The upper roll is made of rubber and the lower roll is made of steel with chrome plating.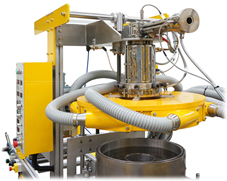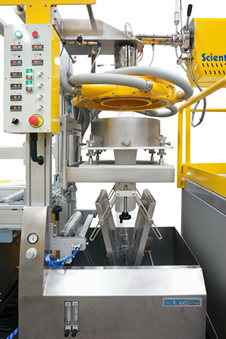 Water Quenching & Collapsed A-Frame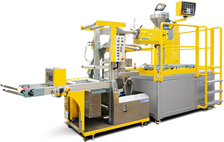 Downward Single Layer Film Blowing Line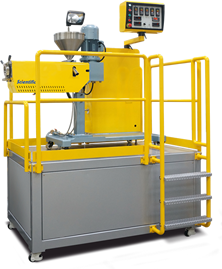 25MM, 30 L/D Single Screw Extruder