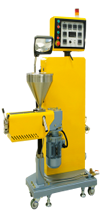 The amazing 12.5 mm. conical extruder which can handle regular pellets.
The 12.5 and 20 mm extruders are also available as Table Top versions.
Single Screw Extruders 12.5, 20mm
For Co-Ex applications, the extruders can be equipped with our weighing hopper feeders with a large touch screen controller mounted on a central control cabinet.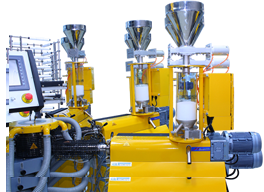 Single Screw laboratory extruders with diameters from 8 to 45mm, all with an L/D ratio of 30. The 25, 30, 40 and 45 mm extruders are available both as vented or non-vented versions and with plain screws or equipped with Maddock mixing elements as well as a mixing section on the screw tip.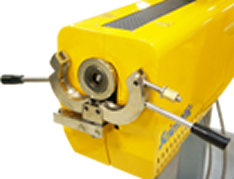 C-clamp connection to extruder for fast and easy attachment of down stream equipment.
Our equally amazing 8 mm ultra micro extruder that can be fed with regular pellets.