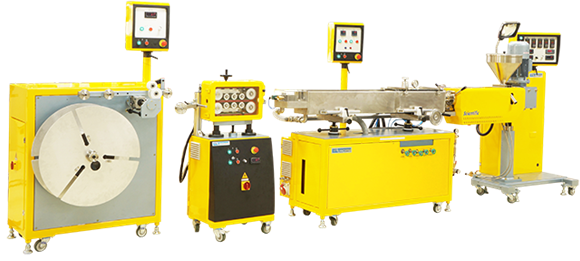 Extrusion Line for Tubing, Hose, Pipe and other Small Profiles
The lines are designed for extrusion of small diameter Tubing,
Pipes and Hoses with a diameter of up to 50 mm and with any desired wall thickness. It can also be used for other profile types with similar size range.
The lines comprise of the extruders of sizes from 20 to 45 mm, equipped with a die, downstream calibrating vacuum
tank with water spray for cooling and a caterpillar type haul off. The calibrating and sizing unit inside the tank
together with the vacuum ensures high precision production of the pipe or tube.

A Bi-Lumen die produced the tube shown above. This tube has an outer diameter of only 2 mm and has two cavities (Bi-Lumen).
High Precision Medical Tubing Line